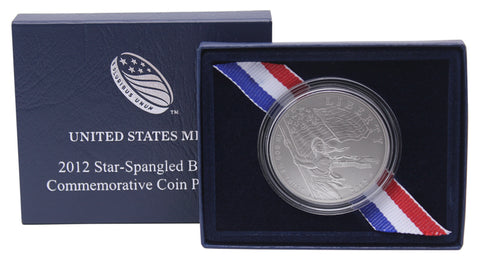 2012 Star Spangled Banner Commemorative Silver Dollar Uncirculated
The 2012 Star-Spangled Banner brilliant uncirculated silver dollar commemorative coin comes in the original government packaging (including a velvet display, box, and outer sleeve), with a certificate of authenticity.
This coin was minted to commemorate the bicentennial of the writing of the Star-Spangled Banner. The obverse depicts Lady Liberty waving the 15-star, 15-stripe Star-Spangled Banner, with Fort McHenry in the background. The reverse shows a waving modern American flag.
The coin was produced at the Philadelphia mint and has a "P" mint mark. The specified weight is 26.730 grams with a composition of 90% silver and 10% copper.
---
We Also Recommend