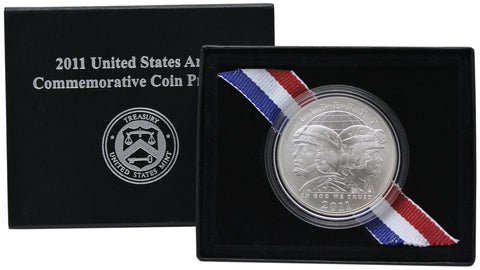 2011 United States Army Commemorative Silver Dollar Uncirculated
The 2011 United States Army silver dollar commemorative uncirculated coin comes in the original government packaging (including a velvet display, box, and outer sleeve), with a certificate of authenticity.
This coin was minted in recognition and celebration of the establishment of the U.S. Army in 1775. The obverse depicts the busts of a male and female soldier, and the reverse has the Great Seal of the United States, worn on U.S. Army dress and service uniforms since the early 1800s.
The coin was produced at the San Francisco mint and has a "S" mint mark. The specified weight is 26.73 grams with a composition of 90% silver / 10% copper.
---
We Also Recommend