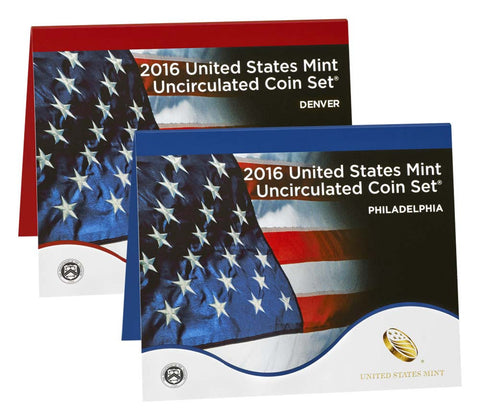 2016 US Mint Uncirculated Coin Set
2016 US Mint P&D uncirculated coin set in the mint issued packaging. This set contains two folders of 13 uncirculated coins, for 26 coins total. One folder contains coins struck in Philadelphia with "P" mint marks, and the other has coins struck in Denver with "D" mint marks.
A higher amount of force is used in striking these uncirculated coins compared to ones struck for circulation. The result is a sharper image with more clearly defined details.
Each folder contains the following:
Final Three Presidential dollars: Richard M. Nixon, Gerald R. Ford, and Ronald Reagan.
Five quarters from the "America the Beautiful Quarters" program: Shawnee National Forest in Illinois, Cumberland Gap National Historical Park in Kentucky, Harpers Ferry National Historical Park in West Virginia, Theodore Roosevelt National Park in North Dakota, and Fort Sumter National Monument in South Carolina.
Native American dollar
Kennedy half dollar
Roosevelt dime
Jefferson nickel
Lincoln penny
---
We Also Recommend