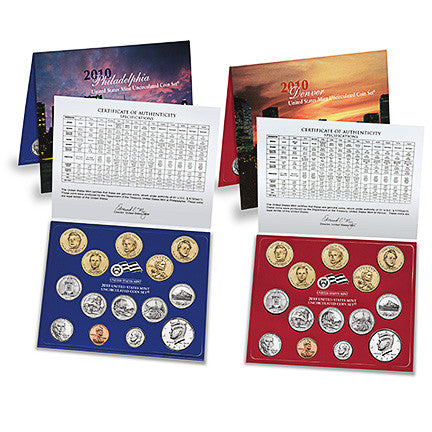 2010 US Mint Uncirculated Coin Set
2010 US Mint P&D uncirculated coin set in the mint issued packaging. This set contains two folders of 14 uncirculated coins, for 28 coins total. One folder contains coins struck in Philadelphia with "P" mint marks, and the other has coins struck in Denver with "D" mint marks.
A higher amount of force is used in striking these uncirculated coins compared to ones struck for circulation. The result is a sharper image with more clearly defined details.
Each folder contains the following:
Four Presidential dollars: Millard Fillmore, Franklin Pierce, James Buchanan and Abraham Lincoln
Five quarters from the "America the Beautiful Quarters" program: Hot Springs National Park in Arkansas, Yellowstone National Park in Wyoming, Yosemite National Park in California, Grand Canyon National Park in Arizona, and Mount Hood National Forest in Oregon
Sacagawea golden dollar
Kennedy half dollar
Roosevelt dime
Jefferson nickel
Lincoln penny
---
We Also Recommend