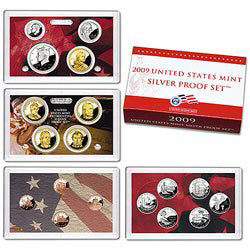 2009 US Mint Silver Proof Set
2009 US Mint silver proof set in the original mint packaging with a certificate of authenticity. Includes 18 proof coins contained in four plastic holders.
First holder: Four Presidential dollars (William Harrison, John Tyler, James Polk, and Zachary Taylor).
Second holder: Sacagawea golden dollar, 90% silver Kennedy half dollar, 90% silver Roosevelt dime, and Jefferson nickel.
Third holder: Six 90% silver territory quarters (Washington D.C., Puerto Rico, Guam, American Samoa, US Virgin Islands, and Northern Mariana Islands).
Fourth holder: Four Lincoln cents: "Birthplace", "Formative Years", "Professional Life", and "Presidency".
---
We Also Recommend