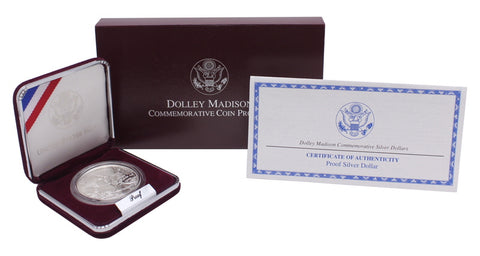 1999 Dolley Madison Commemorative Silver Dollar Proof
The 1999 Dolley Madison silver dollar commemorative proof coin comes in the original government packaging (including a display holder, box, and outer sleeve), with a certificate of authenticity.
This coin commemorates the life and achievements of Dolley Madison, first spouse to the fourth President of the United States, James Madison. The obverse features a portrait of Dolley surrounded by gardenias, and the reverse depicts a view of the portico of Montpelier, Madison's home in Virginia. Both sides of the coin were designed by Tiffany & Co.
The coin was produced at the Philadelphia Mint and has a "P" mint mark. The specified weight is 26.73 grams with a composition of 90% silver and 10% alloy.
---
We Also Recommend