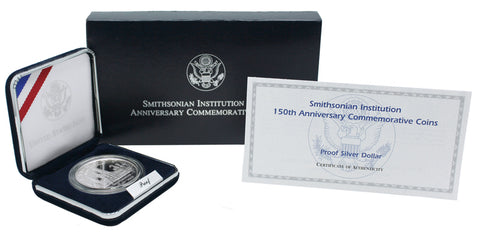 1996 Smithsonian Institution Commemorative Silver Dollar Proof
The 1996 Smithsonian Institution commemorative silver dollar proof coin comes in the original government packaging (including a display holder, box, and outer sleeve), with a certificate of authenticity.
This coin was minted to celebrate the 150th anniversary of the Smithsonian Institution's founding. The obverse shows the Smithsonian Castle flanked by laurel leaves, and the reverse depicts an allegorical figure with the torch of knowledge (based on the Smithsonian's gold Langley medal).
The coin was produced at the Philadelphia Mint and has a "P" mint mark. The specified weight is 26.730 grams with a composition of 90% silver & 10% copper.
---
We Also Recommend